LOREN KLING


Host, Emcee, and Exceptional Conversationalist

If you've ever wondered who might appear if the sexiness of James Cordon was combined with the affable curiosity of Huell Howser (or Bill Nye "The Science Guy") – look no further! Blending intellect and wit, Loren Kling is a camera-ready, audience-friendly, geek-approved talent. He's slightly off-center yet always on-target. A surprising delight. (Like that unexpected onion ring in a bag of fries.)
ABOUT LOREN:
Loren Kling's love for comedy began at a young age, when he was glued to his father's collection of comedy albums. It wasn't until he gave the Best Man speech as his brother's wedding – tantalizing the audience's attention for 10 minutes… plus an encore – that he discovered his own comedic talent. Since then, he's put his sharp wit and unique sensibilities to good use as a television host, emcee, voice actor,  interviewer, and producer.
HOST:
ON-CAMERA: Loren was the host of the local EMMY-WINNING series, "Explore T.O.," dressed up for the L.A. County Fairground's  "Oktoberfest at Fairplex!" event, hosted a game show teaser called "Shopped," and still wishes that the pilot for "Beerology" — an edu-reality series — gets picked up.
PODCASTS: Not only is Loren a great host but he's also produced two interview-style podcast series: 5 Things That Changed Your Life (a multi-season interview series where guests share 5 stories, events, or experiences that had an impact on their lives) and Benztown Voiceover Stories (conversations with radio talent and voice actors).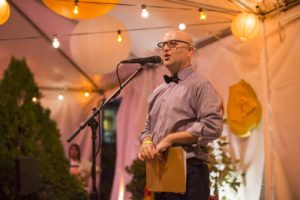 LIVE-EVENT EMCEE: Loren is a family-friendly host with a quick-wit and a big heart who can entertain crowds from 5-500. He's hosted big and small/intimate fundraisers, auctions, film festival panels, and comedy shows including "A Gentle Thanksgiving" (a fundraising gala for The Gentle Barn animal sanctuary), Inner Circle Foster Care (a holiday party for foster kids and their parents and guardians), The Los Angeles Movie Awards and Los Angeles International Underground Film Festival (panel and one-on-one conversations with filmmakers),
Loren also produced and hosted "A
Conversation With…," a series of live, "Inside the Actors Studio" style interviews with top TV animation voice actors. 
Voice actor, Tara Strong (pictured) said of the interview,
In a word, WOW! This was hands down my favorite interview in my entire career.
Loren was more prepared than any interviewer I have ever met. He made it fun, nostalgic and thoroughly enjoyable. I was really blown away by his persona, research, professionalism and spunk. He was able to keep it moving and entertaining for the audience who were loving every minute. I cannot recommend him enough, it was just an absolute pleasure.
–Tara Strong, The Power Puff Girls, The Fairly Odd Parents, 101 Dalmatians
VOICE ACTOR:
As a voice actor, he's recorded spots for top brands including Target, IBM, and DirecTV. He was a series regular on the animated digital series Minecraft High and Strange Minecraft Deaths…, which have a combined 16 million views on YouTube, and the voice of Sonic in Sonic & Shadow.
Loren is currently working on a new animated series that's due out in 2020.
Loren Kling's COMMERCIAL Voice Over Demo [Download]
Loren Kling's ANIMATION Voice Over Demo [Download]
AND FINALLY…
Mr. Kling has trained at iO West and spent six years treading the boards with the mainstage improv troupe at National Comedy Theater. He has performed stand-up comedy at well-known comedy clubs around Hollywood, including The Comedy Store, Hollywood Improv, and the Ice House.
Loren is a graduate of San Diego State University's Film and Television Program and lives in Los Angeles, CA with his wife and two cats.
PODCASTS AVAILABLE TO STREAM OR DOWNLOAD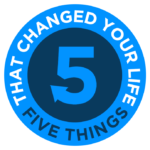 Loren is the host of 5 Things That Changed Your Life, an interview series where guests share 5 stories, events, or experiences that had an impact on their lives.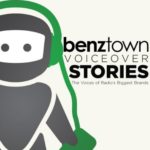 Loren is the host and producer of Benztown Voiceover Stories, conversations with people from in-front-of and behind-the-mic in the worlds of voice over, radio imaging, and podcasting.
CONTACT
On Camera and Voice Over
Greta Hanley
BiCoastal Talent and Literary
(818) 845-0150
On-Camera, Live Event Emcee, Panel moderator:
Use the form below.